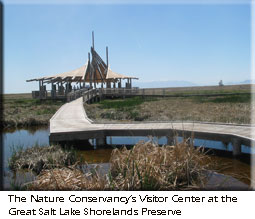 Utah's Great Salt Lake is the largest natural saltwater lake in North America, and is internationally recognized for its importance to migratory water birds.

The Mitigation Commission and The Nature Conservancy (TNC) have partnered to preserve valuable habitat around the Great Salt Lake, particularly in the Layton-Kaysville area, where TNC has established the Great Salt Lake Shorelands Preserve. The Preserve is an undiked natural landscape located on the eastern periphery of the Great Salt Lake and consists of approximately twelve contiguous shoreline miles and roughly 4,000 acres. Its visitor center features an open-air pavilion, 30-foot-high observation tower, and mile-long boardwalk trail through prime bird-watching habitat. Educational exhibits along the boardwalk offer lessons about the Lake's birdlife, habitats and need for its protection. [Click here to link to TNC's website for much more information about the Preserve and visitor center.]

Since 1994, the Commission and TNC have acquired over 1,750 acres with Commission funds, primarily in the Great Salt Lake Shorelands Preserve. These purchases have complemented other area acquisitions, some by The Nature Conservancy and some by private entities for wetland mitigation banking. All the acquisitions result in securing the area for wetland restoration and wildlife values.